Computer
Summary
The Summary page lists the main hardware and software components of the given PC. We can select the individual items we would like to see here and add custom variables to the page in Preferences / Summary. We can also add custom components to the Summary page in Preferences / Custom components and custom variables in Preferences / Summary.
Clicking on the items highlighted in blue on the page will open a context menu which provides links to the manufacturer's product information page as well as to BIOS and driver download websites.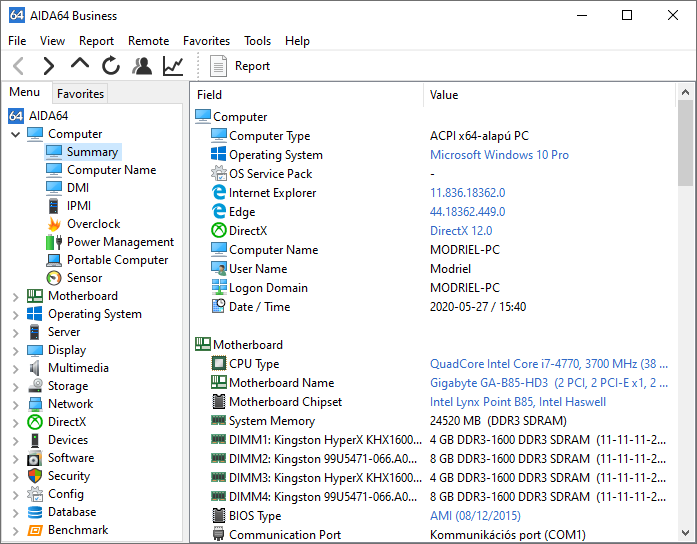 Computer name
The Windows host name, the NetBIOS name as well as the DNS host and domain names of the PC are listed here.
DMI
Here AIDA64 displays the computer's DMI table in a human-readable format. DMI is a standard developed by DMTF and stands for Desktop Management Interface. DMI information includes descriptions of hardware components such as BIOS, motherboard, processor, memory controllers, port connectors, system slots etc. DMI information should be provided by the component or PC manufacturers, and can often be incomplete and inaccurate.
IPMI
Here AIDA64 displays the Intelligent Platform Management Interface (IPMI) system log and sensor information.
Overclock
This page displays CPU properties, CPU speed and cache information as well as motherboard, chipset, BIOS and graphics processor properties.
Power Management
This page displays information about the PC's power source and battery (if applicable). Temperature and capacity monitoring, input voltage, output voltage, output current and energy consumption measurements are also provided for HID-capable UPS devices.
Portable computer
This page displays mobile PC related physical information as well as Intel Centrino platform compliance information.
Sensor
This page provides motherboard, CPU and HDD sensor information as well as cooling fan RPM, voltage and power values in real time.