Desktop gadgets
Here we can choose to display sensor values on a Desktop gadget. Desktop gadgets are natively supported in Windows Vista, Windows Server 2008 and Windows 7, while an extension pack needs to be installed in Windows XP and Windows 8 to enable them ("Vista 5744 Sidebar for XP" and "8GadgetPack - Gadgets for Windows 8", respectively).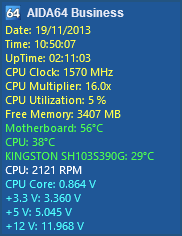 When the option "Use HKLM in Registry" is enabled, AIDA64 stores measured temperature, voltage and fan speed values in the root key HKEY_LOCAL_MACHINE in the Registry. Otherwise, the values are stored in the root key HKEY_CURRENT_USER.
We can customize the layout of the desktop gadget by clicking the wrench icon that appears when we hover the mouse over the gadget itself. It will display the options window where we can configure how we want to align the text and we can choose to break up long texts into multiple lines. If the latter option is disabled, long lines may not be fully visible in the gadget. We can also enable/disable the "AIDA64 Business" header and the labels.
We can customize the gadget colors either by selecting a predefined color theme or by defining the background top, background bottom, header text and border colors manually.
Desktop gadget items
Here we can select the items we want to display on the Desktop gadget. Double-clicking or selecting an item will display the settings window for the item, where we can customize its layout. Here we can modify the default label (or restore it), select the font and configure the font size, font color and font property for the displayed text.