Remote Features
With these settings, we can configure four TCP/IP ports used for remote functions. These ports should be configured in the firewall, and restricting traffic on these ports to the intranet is also important to prevent any attacks or sniffing on AIDA64 remote communications traffic. Default remote control ports are 2345 for remote system information, 2346 for remote monitoring, 2347 for remote reporting and 2348 for remote control. If any of the selected ports are already in use by another application, we can select another one, which facilitates firewall configuration.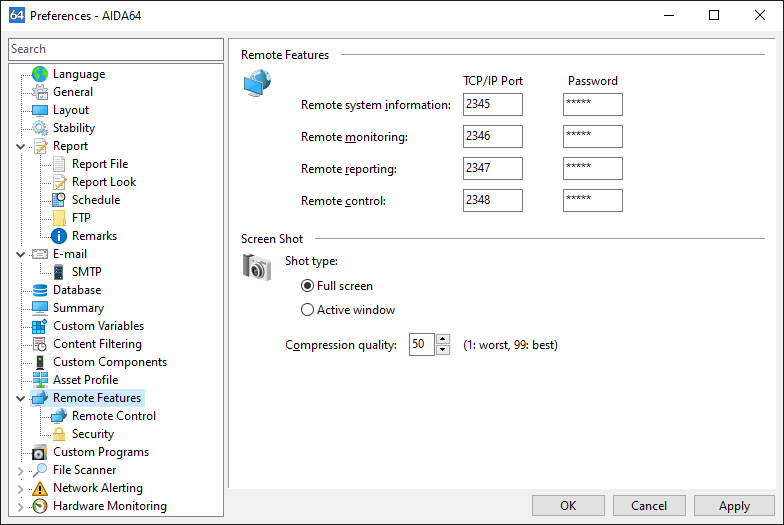 We can set a password for the remote connection modes to ensure that only authorized persons can connect to remote computers.
With AIDA64, we can take screen shots on remote computers and we can configure the screen shot properties (Full screen, active window and compression quality) here.
Remote Control
To improve Remote Control performance, here we can disable user interface effects and the desktop wallpaper on remote computers. It is also possible to change the desktop resolution and the desktop color depth on remote computers, and we can choose to ignore all inputs on the local computer as well. Holding the mouse pointer over the information bubble will display some tips for each available option.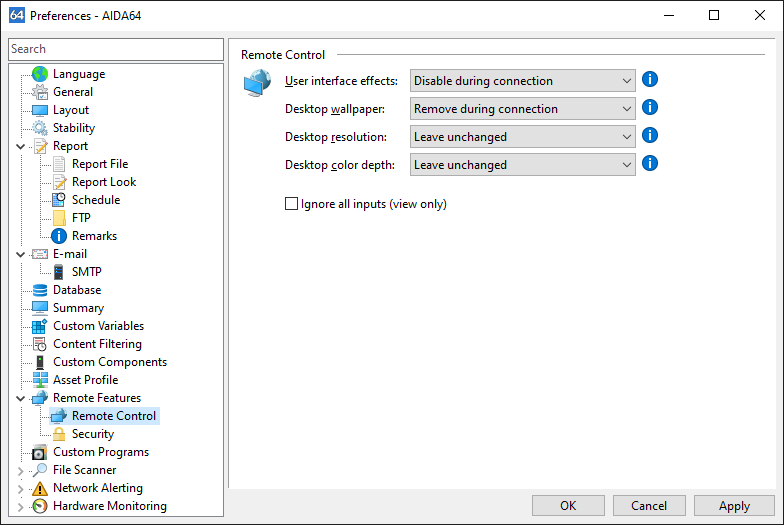 Security
AIDA64 allows us to specify those computers, user names or IP addresses that are authorized for initiating remote connections.