Network inventory
Maintaining an accurate PC inventory is something you cannot do without at any company or organization. Managing an inventory of hardware and software updates for an entire PC fleet on paper or even in Excel would require a lot of hard work and time even for a small business, not to mention huge corporations with hundreds or thousands of computers. No wonder that sysadmins, who are usually tasked with these chores, often see record-keeping and statistical tasks as a drag that takes valuable time and resources away from important projects.

Offering completely automated network inventory, AIDA64 can take this load off the shoulders of IT technicians. Intended for business customers, AIDA64 Business and AIDA64 Network Audit can take a detailed hardware and software inventory of Windows PCs connected to the company network. The scope of information the software collects can be fully customized, but administrators can also choose from a couple of templates (report profiles).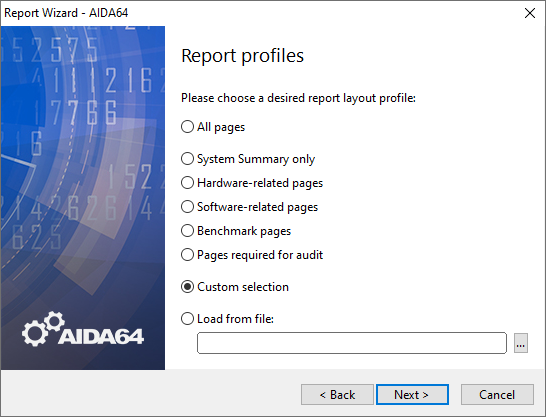 Configuration flexibility
The software does not require installation, as a result it can be run on the clients from a central shared folder in a domain environment. Naturally, you can define how often you want AIDA64 to create reports (inventory) of the PCs: reports can be gathered once a month, once a week, once a day, or upon each user logon. As AIDA64 supports command-line switches, the process can be fully automated.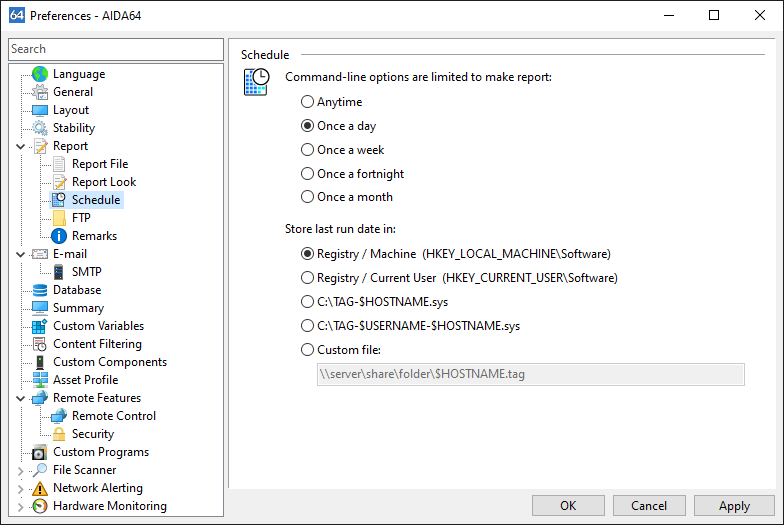 Reports can be saved to open formats ready for further processing as well as to an SQL database. AIDA64 Network Audit and AIDA64 Business support the following report formats:

Plain text (TXT)
HTML
MHTML
XML
CSV
MIF
INI
ADO (to be inserted into a database)
Integrated audit manager
The collected reports are processed by AIDA64 Audit Manager, which can also provide network audit statistics and diagrams on hardware and software distribution. In the audit manager, you can review and analyze the hardware and software inventory of the PC fleet. You can also filter the data and create charts. For example, system administrators can easily identify clients that do not meet the minimum system requirements of a new program to be deployed, or which lack the latest operating system service packs and security updates. In the statistical overview (which can be sorted and filtered according to several criteria), you can immediately see the percentage of company PCs having a given processor type, memory size or Windows edition installed.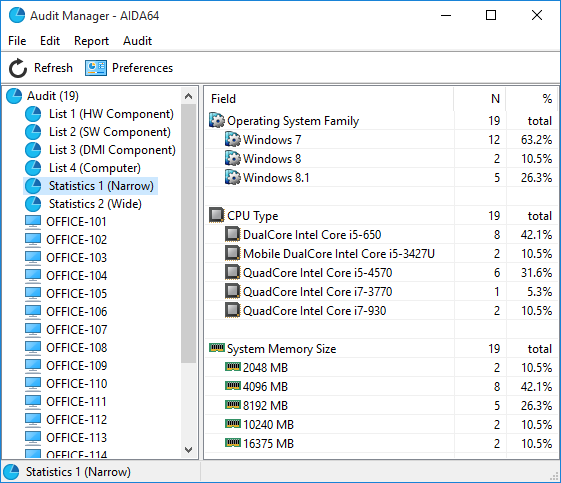 You can also monitor changes between network audit snapshots taken at various times, revealing any changes in the PCs' hardware and software environment. You can read more about AIDA64 Change Manager here .