Software information
AIDA64 can provide large amount of information on installed programs, software licenses, security applications and Windows settings. Lists of running processes, services, DLL files, startup programs and web pages visited are also available.
AIDA64 can provide extremely detailed information not only about the PC's hardware, but also about the operating system and installed programs. It can list running processes and services, DLL and AX files, installed Windows updates, scheduled tasks, installed fonts and even the web pages users opened in Internet Explorer. It also provides Windows uptime and BSOD (Blue screen of death) statistics.
You can also modify certain software-related settings. For example, you can start or stop services, clear the browser history, or remove items from the automatic start-up list – all these can be done within AIDA64, without launching an external application.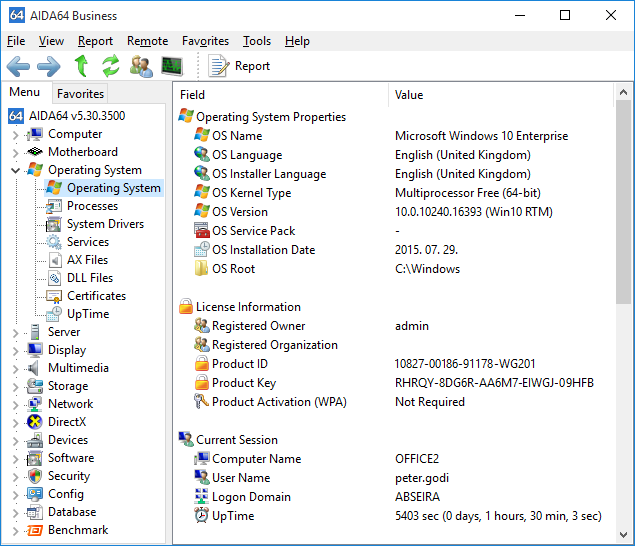 With its file scanner*, you can scan the clients for certain file extensions, and save the list of such files to the report. For example, if system administrators want to check if there are any multimedia files stored on the company PCs, they can compile a list with just a few mouse clicks. Similarly, they can check if certain files or folders are available on the client machines. Among other things, this function can be used to track applications that otherwise do not appear on the list of installed programs in Windows.
Moreover, the software can list all environmental variables available in Windows, and display the event log, in which you can sort the information using various filters.
* File scanner is not available in AIDA64 Extreme and AIDA64 Engineer.